The mission of the International Student Affairs Office is to recruit a diverse and highly qualified international student population and empower them to be successful at Truman and throughout their lives.
---
---
WHAT'S NEW?
---
---
A Day at Truman State University is anything but typical. Come take a peek into our lively community of learners, pursuing their passions and preparing for lives that matter in their own unique way.
And when you're done, do some exploring of your own to find out why Truman is consistently ranked among the best universities in the country. Whatever your interest, there's a place for you here.
---
---

Click here to see the schedule of events.
---
---
Truman Recognized as No. 1 Public University in the Midwest Region
For the 17th year in a row, Truman has been recognized as the No. 1 Public University in the Midwest Regional category by U.S. News & World Report.
This recognition comes from the newly released U.S. News & World Report's "Best Colleges 2014" guidebook. Truman is also ranked 10th overall in the Midwest Regional category among both private and public institutions that provide a full range of undergraduate and master's programs.
Other notable entries for Truman in this year's rankings include No. 5 in the "A Strong Commitment to Teaching" section, where the University was one of only six schools in the Midwest Region to be listed.
Additionally, Truman earned the No. 8 spot in the region in the "Great Schools at Great Prices" section. Of the 15 schools listed, Truman was the only public institution.
Truman also shows up in the "A Focus on Student Success" section in the category of "Undergraduate Research/Creative Projects." Truman's research program has garnered national recognition over the years since many students are able to participate in research at the undergraduate level as opposed to waiting until graduate school. Inclusion in this section is based on nominations from college presidents, chief academic officers and deans of admissions. The schools with the most nominations were listed alphabetically.
Among Missouri schools, Truman is the only one to be listed in the Midwest Region for the "A-Plus Schools for B Students" category, which emphasizes schools where "spirit and hard work could make all the difference to admission offices."
U.S. News & World Report bases its regional rankings on peer assessment, graduation and retention rates, graduation rate performance, faculty resources, student selectivity, financial resources and alumni giving. Complete listings are available at www.usnews.com/colleges.
---
---
Truman Ranked Number 3 by Washington Monthly
Truman State University has again been named one of America's best colleges by a national publication.
Truman is No. 3 in the Best Master's University category of the 2013 Washington Monthly College Rankings. Truman is the only Missouri school listed in the top 75, and the only public Missouri school on the entire Top 100 Master's Universities list.
Washington Monthly bases its rankings on three criteria: social mobility, which gives colleges credit for enrolling low-income students and helping them earn degrees; research production, with particular emphasis on schools where undergraduates eventually earn Ph.D.s; and commitment to service. More information about the rankings can be found here.
In addition to the Washington Monthly, The Princeton Review listed Truman as one of the nation's best institutions for undergraduate education. The education services company has again featured Truman in its annual college guide, "The Best 378 Colleges." Only about 15 percent of America's four-year colleges are profiled in the 2014 edition.
---
---
Truman Students Represent State at National Conference
Students Jacob Caughron, Joanne Chong, Jeananne Pigeon, Megan Recklein and Ashton Wolter represented the state of Missouri at the Future Business Leaders of America-Phi Beta Lambda National Leadership Conference in Anaheim, Calif., June 22-25.
These students competed in FBLA-PBL's national business competition against state representatives from across the United States, Puerto Rico and China. At the Awards of Excellence program, it was announced that Caughron received 2nd place in Marketing Concepts and 6th in Sports Management and Marketing. Recklein earned 4th place in Information Management, 5th place in Project Management and received the Who's Who in Phi Beta Lambda award. Wolter received 4th place in Business Communication.
Truman's chapter received an award for the second largest chapter in the North Central region and February Frenzy Award. Truman's chapter also received the Gold Seal Chapter of Merit Award.
The competition is part of a competitive events program sponsored annually by FBLA-PBL, a professional association for students pursuing business careers. Individuals, local chapters and state teams compete in more than 50 events representing a range of business, career and leadership development activities. The winners of these challenging and prestigious awards are selected from FBLA-PBL's more than 210,000 members, and have won regional and state competitions to qualify for the national awards program. The 1,800 delegates to the 61st annual conference elected national student officers and attended business and leadership workshops in addition to competing in business and career skill events. This year's national theme, "Igniting Innovation," reflects the goals of FBLA-PBL members.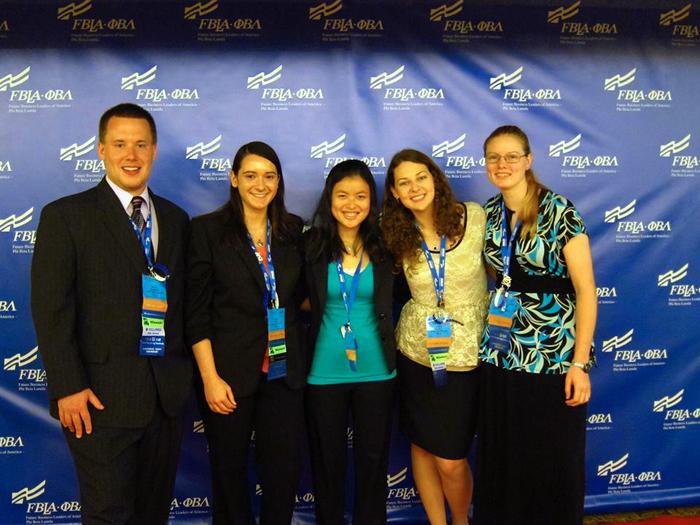 Pictured from left to right, Jacob Caughron, Ashton Wolter,
Joanne Chong, Megan Recklein and Jeananne Pigeon.
---
---
Ling Recognized for Distinguished Professorship in China
Huping Ling, professor of history, was honored with the distinguished Changjiang Scholar Chair Professorship by the Central China Normal University.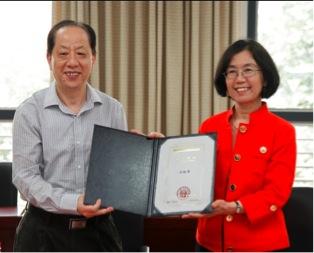 Huping Ling accepts a certificate recognizing her professorship from He Xianglin, the Party Secretary General of the CCNU.
The New Changjiang Sholar Program, which began in 2012, is funded and administered by the Chinese Ministry of Education. It is designed to select eminent scholars in the world to help internationalize China's higher education and research. The program awards only 50 prominent scholars overseas annually to teach and conduct research with leading Chinese scholars at selected institutions of higher education.
During her tenure, Ling will work jointly with prominent Chinese scholars, conducting research on Chinese Overseas Studies, giving public lectures at conferences and universities, launching cutting-edge research projects, initiating new research institutions and programs, teaching courses in Asian-American studies, and supervising doctoral dissertations.
---
---
Truman Named a College of Distinction
Truman has been recognized as a Missouri College of Distinction by Colleges of Distinction.

Truman is the only Missouri public university recognized among the six schools highlighted. The other five recognized are private universities. Colleges of Distinction looks at the following four distinctive areas when doing their evaluation: engaged students, great teaching, vibrant communities and successful outcomes.

Colleges and universities are nominated for participation in Colleges of Distinction by high school college counselors.

The Colleges of Distinction methodology is a mix of qualitative and quantitative information with the qualitative information being gleaned from college admission experts around the country. They interview staff and faculty at each accepted college and feedback is gathered from administrators at other colleges and high school counselors across the country. They also visit each of the colleges to get a feel for student engagement and quality of teaching. In addition they use a range of quantitative data such as graduation rates, classroom size, and other key stats that speak to the four distinctive areas.

Both prominent universities and "hidden gems" are highlighted, and according to their website all of the schools share excellent reputations among high school guidance counselors and education professionals, not to mention employers and graduate schools.

For more information on visit CollegesofDistinction.com.
Taken from: Truman Today, Vol. 17 No. 24- March 18, 2013
---
---
There's a new way to wire your funds to Truman!
Truman State University has partnered with peerTransfer to streamline the tuition payment process for our international students.
Click here to learn more about the available methods of payment.
---
---
Princeton Review Ranks Truman #3
Truman has again been named one of the nation's "Best Value" colleges and universities according to The Princeton Review. Truman is profiled in its newly published book, "The Best Value Colleges: 2013 Edition."

"The Best Value Colleges: 2013 Edition" profiles of 75 public and 75 private colleges selected after reviewing data from 650 institutions on their academics, cost and financial aid.

Of all of the 75 public schools named by the Princeton Review, Truman was No. 3 overall in affordability for out-of-state students. Of the three Missouri public schools to make the list, Truman was the most affordable for both in-state and out-of-state students. It was also the No. 1 Missouri public school in terms of average student debt at graduation.

More information about "The Best Value Colleges: 2013 Edition" is available at princetonreview.com/best-value-colleges.aspx.

The Princeton Review is the second national publication to recognize Truman this year. The February edition of Kiplinger's Personal Finance magazine featured Truman and ranked the University at No. 19 on its list of 100 "Best Values in Public Colleges."
-Article taken from TrumanToday Vol. 17 No. 20, 13 Feb 2013: http://newsletter.truman.edu/article.asp?id=8201
---
---
Intern at Missouri State Capital

International student Gamuchiria Gandawa (top row, second from left) will be spending her spring semester as a intern at the Missouri State Capital! More information about the Missouri Government Internship Program can be found here.
---
---
Students Excel on CPA Exam
According to recently released statistics, Truman students were among the most successful in the country at the Certified Public Accountants (CPA) examination.
The candidates passed 78.9 percent of sections taken with an average score of 80.4, placing fourth in the nation among large programs.
Among all institutions with 10 or more reported candidates, Truman ranked ninth in the nation. Truman graduates had the highest success rate of all universities in the state.
Truman is one of only 178 universities worldwide accredited in both business and accounting by AACSB International--The Association to Advance Collegiate Schools of Business.
---
---
Check out the Truman International Viewbook!